Mr Peabody and the Mermaid

Brief Synopsis:

Mr Peabody and the Mermaid is about a middle-aged man who encounters a mermaid during a mid-life crisis.
Full Synopsis With Spoilers:
Mr Peabody and the Mermaid begins at a psychologist's office as Mrs Peabody tells Dr. Harvey that her husband believes he is in love with a mermaid. The doctor speaks privately with Arthur Peabody and the story is told in flashback. While on vacation in the Caribbean, Arthur is struck with a midlife crisis as he will shortly turn 50. Depressed he goes on a fishing trip without his wife Polly. There he hears a beautiful singing and tries unsuccessfully to find the source. Later that night he meets a singer and asks her to sing for him believing she may be the source of the singing he heard earlier. She is not, but his wife become jealous of her. The next day Arthur goes fishing and catches a mermaid. She can sing but she cannot talk. Her calls he Lenore and brings her back to his hotel room and puts her into the bathtub. When his wife returns he tells her there is a mermaid in the bathtub but when she looks in the bathroom all she sees is a tail sticking out of the water. She tells Arthur to get rid of the "fish". Arthur cannot give up his mermaid and puts into the hotels giant fish pond. He also buys her bathing suit tops at the store. Polly becomes jealous and catches Arthur kissing the mermaid, whom she presumes is just a woman. Angrily, she packs her bags and leaves for Boston. Because of her sudden disappearance and the gossip about Arthur and the mermaid people begin to suspect that he has murdered her. Arthur, still in love with Lenore, returns with her to the ocean and tells her he is prepared to run (swim?) away with her. The suspicious police arrive and stop him. They all hear Lenore singing and Arthur jumps in the water where Lenore hugs him and he almost drowns. The story then returns to the present in Dr. Harvey's office. Dr. Harvey tells Arthur not to tell his story to anyone under 50 because they wouldn't understand. Arthur is then reunited with Polly and the two plan an evening together.
The best place to see this movie is on TCM. Go to their website and search on "Mr Peabody and the Mermaid".

Main Cast of Mr Peabody and the Mermaid
William Powell (Arthur Peabody) – Elegant, classy actor famous for his elegant, classy roles. He was famous for playing Philo Vance in a series of popular detective movies, plus he starred in old Hollywood classics such as The Thin Man (1934), My Man Godfrey (1936) and Life With Father (1947).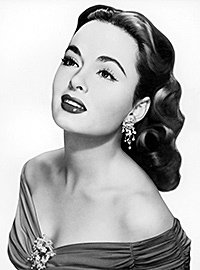 Ann Blyth (Lenore) – A woman of considerable talent she started out in opera and radio before she was 12, came to Broadway at age 13, and finally Hollywood at 16 where she appeared in dramas and musicals. She has an important role in the film classic Mildred Pierce (1945), and you can hear sing, and talk, in the musicals Kismet (1955), The Student Prince (1954) and Rose Marie (1954).
Other Images:



Man and Mermaid relaxing together.
Mirror, mirror, in my hand, who's the fairest mermaid in the land?
Lenore and Arthur get down to business.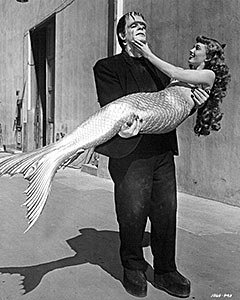 Back lot shot.
Apparently, they were filming Abbot and Costello Meet Frankenstein at the same time as Mr Peabody and the Mermaid and since both actors were in make-up at the same time it occurred to some clever publicity man to take this shot. Either that or it's a scene from the unmade sequel Mr Frankenstein and the Mermaid.
Mr Peabody and the Mermaid --> Mermaid Movies