Black Jack Biohazard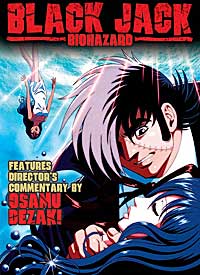 "Black Jack Biohazard" is an episode of a series called "Black Jack". Black Jack is an unlicenced physician with a dark past and a terrible scar on his face. Actually, he looks a little like Two-Face from Batman. He will take on any case no matter how difficult or unusual - for enough money. In this episode his patient is a woman who has gotten sick from swimming in polluted water. Black Jack examines her and begins to suspect that she is not sick but is undergoing a transformation into a mermaid.
The original manga was written by Osama Tezuka, the great master of Japanese comics. His other works include "Kimba the White Lion" and "Astro Boy".
The price at Buy.com is better than Amazon, and they have similar shipping costs. To buy "Black Jack Biohazard" at Buy.com click here.