Anime Mermaid
I think that the anime mermaid benefits greatly from the Japanese art style. The long, flowing hair and large expressive eyes are perfect for a mermaid. For those who don't know, anime refers to Japanese animated cartoons. Comics and comic books are called manga. This however is not hard and fast. Anime is the more generic term used to cover both.
In Japanese, mermaid is written by the characters: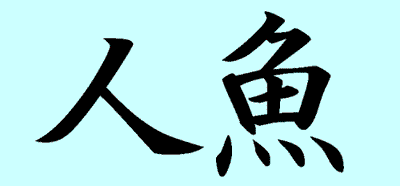 They come from Chinese and literally mean "person-fish", which is I suppose a good enough word for mermaid.
The Japanese also use the following kana: This is pronounced "ma-meido" - a Japanesed version of our word "mermaid". Both forms are used interchangeably, with the first being the more common.

---
Mermaid Melody - Pichi, Pichi Pitch
Mermaid Melody is a magical girl anime about a mermaid princess named Lucia. "Magical girl" is a type of anime which involves the adventures of girls in their early teens who have magical powers. Sailor Moon is a typical example.
Anime mermaid Lucia must fight the villain Gackto to protect the Seven Seas meanwhile searching for her lost pearl. As we all know, a mermaid's pearl is her most important possession.
To complicate matters even more Lucia is in love with a boy in her class. He does not know that she is a mermaid, nor that he has her pearl. He is also unaware that he is a target of Gackto in her war against Lucia.
Lucia and her two sisters have tails in the sea and legs on dry land. They fight Gackto's monsters with their beautiful singing voices. The singing style most deadly to monsters is "pichi pichi" which means "light-hearted".
Click here for information about the Mermaid Melody manga.
---
Mermaid Saga
The anime mermaid is not very popular in Japan, probably because in Japan she is associated with horror stories! Yes, it's true, our dainty little mermaid is looked upon as an object of fear. The reason is that, according to Japanese folklore, mermaids can assume human form only by eating the flesh of a human. Also, since mermaids are immortal, anyone who eats a mermaid's flesh becomes immortal. However, because mermaid flesh has such powerful magic, anyone who eats it runs the risk of turning into a monster. Either way, they will still be immortal. There is a series of popular stories by Rumiko Takahashi about these Japanese mermaids. To read about the anime mermaid series click here. To read about the manga version click here.
---
Black Jack
Another popular series in both anime and manga form is "Black Jack". Black Jack is a physician with a dark past and an unusual clientele. In one of the stories, which has been made into an anime, a woman appears to be undergoing a mermaid transformation. Click here for the details.
---
---
Support Mermaids!
Let the world know you love mermaids.
Click the design you are interested in to enter the store.
postage pal - ringer t-shirts - hoodies - tracksuits - long-sleeve t-shirts - dark t-shirts - colored t-shirts - v-necks - tank tops - plus sizes - golf shirts - baby dolls - sweatshirts
LOGO
I (heart) MERMAIDS
A Mermaid Fair
spaghetti tanks - camisoles - hooded sweats - boxer shorts - thongs - kid's t-shirts - baby bibs - infant/toddler t-shirts - infant bodysuits - mugs - steins - teddy bears - caps - hats - totes/bags - magnets/stickers - prints/cards/posters
---